...Batting in the first inning against Boston Red Sox rookie Tracy Stallard, Roger Maris, fooled by a Stallard pitch on the outside of the plate, punched at the ball, flying out to Boston left fielder Carl Yastrzemski. As Maris stepped into the batters box in the fourth, the crowd of 23,154, most of whom were clustered in the right field stands, hoping against hope to catch Maris' 61st home run ball for which a $5,000 award had been offered, began to chant.
Maris watched Stallard's first pitch go by high and outside for a ball. Stallard came right back with another pitch, this time low and inside, almost in the dirt for ball two. Maris swished his bat a couple of times to delineate his strike zone while Stallard studied the stitches on the ball closely. Now both men were ready, This time Stallard's pitch appeared to be right down the middle, waist high. Maris bat, almost with an instinct of its own, flashed in that rhythmic Maris swing and connected. Solidly. As the ball arced its way towards the right field stand, some 300 feet away and about ten rows deep into the stands, an ear-splitting roar rent the air. But Maris was paying no attention to the roars, standing spellbound at the plate, almost using his magic bat as a vertebral cane, watching the flight of Number 61...
Bert Sugar
Baseball's 50 Greatest Games
I was 9 years old in the summer of 1961.
A Yankee fan, just like my father, growing up just south of Boston, Massachusetts.
I can remember, like it was yesterday, that long hot summer. Every night I would wait anxiously for my Dad to come home with the Boston Globe. I would run out to his car and wait for him to park the car, greet me, and toss the sports section my way. I had this unwritten bet with my father that year. In April, he proclaimed this was the year that Mickey Mantle would break Babe Ruth's home run record. He then said to me, "I suppose you think it will be Roger Maris, don't you?" I nodded yes and the bet was on.
Every night I would pour over the box scores, replaying the game in my head like a jig-saw puzzle, making the pieces fit. I would then yell out, "He hit two last night dad! One in the first and one in the sixth." Maris is up two homers on Mickey!"
Of course my Dad would point out Mickey would catch him by weeks end and that Roger Maris was just a cry-baby. I would counter that he must be pretty good because he was a Yankee and was ahead in homers.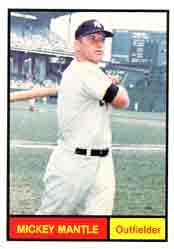 The previous year was the most traumatic in my young life as a Yankee fan. I watched in absolute pain and dejection as Bill Mazeroski hit that home run in Game 7 of the 1960 World Series. I cried for about a week. The neighborhood kids were either die-hard Red Sox fans or anti Yankee fans and I was teased unmercifully all fall and winter.
After that October game I swore to myself I would never get that involved emotionally in a Yankee World Series. It took 41 years and one glance at that World Trade Center American flag flying proudly over center field in Yankee stadium in Game 3 of the 2001 World Series to realize that same level of emotional involvement again, and a promise lost.
But as the summer dragged into the fall of '61, I began to believe Roger Maris could do it. I didn't understand what an asterisk was and didn't care either. Babe Ruth was some magical name in the baseball annals. I wasn't even sure he was a real person. All I knew was Mantle and Maris were Yankees and one of them would break the home run record and I was rooting for Roger Maris.
Every day after school I would practice the stance, using an imaginary bat. I would stand in the batter's box and stare down the pitcher. I had the long graceful stride and quick uncoiling of his bat down perfect. I even had the same whiffle style haircut as Roger Maris.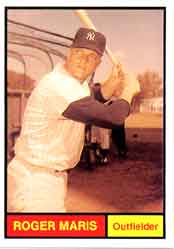 By late September I was in Miss Balfour's fourth grade class and deep into Red Sox territory. Then by the end of the month, Miss Balfour casually reminded everyone that this weekend the Red Sox would be playing the Yankees and the Sox had the opportunity to deny Roger Maris the record. She asked everyone to root for the Red Sox. It's funny how that is about the only thing I remember about fourth grade and Miss Balfour's class; that one day she actually mentioned the name Roger Maris and the Yankees.
By Sunday I had come to realize the worst case scenario. Roger Maris had failed to hit a home run in both Fridays and Saturdays game and the last game of the year would be played on Sunday, televised for all in the New York and Boston area. Sunday. Church and then Catechism class! I would miss the game! I had a decision to make and I must have pondered it for about a minute.
I skipped the class, and watched the game.
My parents, out visiting relatives, came home in time to catch me in the living room in front of the television. My mother went ballistic and sent me to my room with the usual " And your FATHER will be up later to really punish you, young man!"
I could hear them arguing downstairs for awhile and finally my dad came upstairs and in my room.
I did not dare to look up at him, so I sat there at the end of my bed, pounding my fist into my glove.
"Did you see him hit it", he said.
"Yeah, in the fourth inning", I said, my head down, glove in hand, holding back on the elation I felt from that moment.
"You know your mom is pretty mad, skipping class and all. I think you better stay up here for awhile and let her cool off', he said.
"I know, ...I'm sorry Dad, but.. I had to watch it," I said slowly, hoping he above all would somehow understand.
I looked up to realize he wasn't angry at me.
In fact he looked almost ready to laugh, so I smiled.
He smiled back and said, "You know, damn it, I wish I saw him hit it too."




New York Yankees vs. Boston Red Sox
Sunday October 1, 1961

| | | | | | | | | | |
| --- | --- | --- | --- | --- | --- | --- | --- | --- | --- |
| BOSTON | ab | r | h | rbi | NEW YORK | ab | r | h | rbi |
| Schilling, 2b | 4 | 0 | 1 | 0 | Richardson, 2b | 4 | 0 | 0 | 0 |
| Geiger, cf | 4 | 0 | 0 | 0 | Kubek, ss | 4 | 0 | 2 | 0 |
| Yastrzemski, lf | 4 | 0 | 1 | 0 | Maris, cf | 4 | 1 | 1 | 1 |
| Malzone, 3b | 4 | 0 | 0 | 0 | Berra, c | 2 | 0 | 0 | 0 |
| Clinton, rf | 4 | 0 | 0 | 0 | Lopez, lf, rf | 1 | 0 | 0 | 0 |
| Runnels, 1b | 3 | 0 | 0 | 0 | Blanchard, rf, c | 3 | 0 | 0 | 0 |
| Gile, 1b | 0 | 0 | 0 | 0 | Howard, c | 2 | 0 | 0 | 0 |
| Nixon, c | 3 | 0 | 2 | 0 | Reed, lf | 1 | 0 | 1 | 0 |
| Green, ss | 2 | 0 | 0 | 0 | Skowron, 1b | 2 | 0 | 0 | 0 |
| Stallard, p | 1 | 0 | 0 | 0 | Hale, 1b | 1 | 0 | 1 | 0 |
| bJensen | 1 | 0 | 0 | 0 | Boyer, 3b | 2 | 0 | 0 | 0 |
| Nichols, p | 0 | 0 | 0 | 0 | Stafford, p | 2 | 0 | 0 | 0 |
| | | | | | Reniff, p | 0 | 0 | 0 | 0 |
| | | | | | aTresh | 1 | 0 | 0 | 0 |
| | | | | | Arroyo, p | 0 | 0 | 0 | 0 |
| | | | | | | | | | |
| TOTAL | 30 | 0 | 4 | 0 | TOTAL | 29 | 1 | 5 | 1 |
aPopped up to Runnels in 7th; bPopped up to Stafford in 8th
| | | | | | | | | | | |
| --- | --- | --- | --- | --- | --- | --- | --- | --- | --- | --- |
| Boston | 0 | 0 | 0 | 0 | 0 | 0 | 0 | 0 | 0 | 0 |
| New York | 0 | 0 | 0 | 1 | 0 | 0 | 0 | 0 | 0 | 1 |
[ BACK ]